I buy a lot of junk, usually online...stores, auction sites, forums. Sometime last year, I learned about
Kickstarter
. As you know, it can be a great place for getting stuff...especially, if you want something with a bottle opener. Pretty much every bottling plant uses twist tops. Why is there more of a need for a bottle opener than ever before? College kids and hipsters think it is cool. Whatever.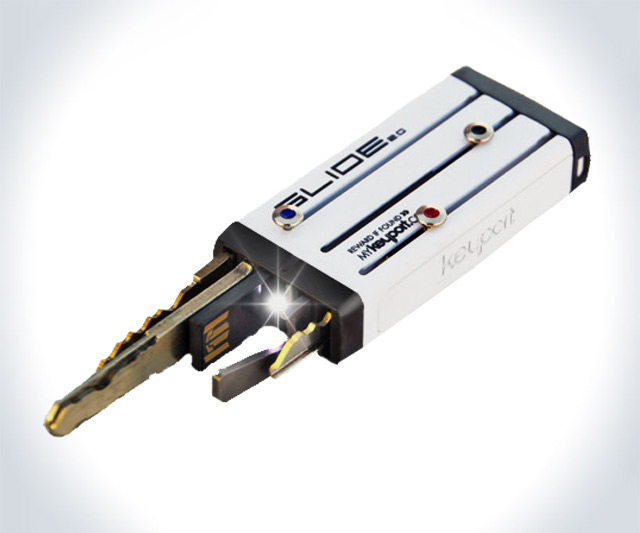 Keyport Slide 2.0
Anyway, in March, I found a great product to fund.
The Keyport Slide 2.0
. I have always wanted one of these ever since I saw their first version. I never took the time or money to buy one, for whatever reason, I never pulled the trigger on this...maybe I was busy buying more junk. Glad I waited, now there is a new and improved version. The guys at
Keyport
needed funding for their newest version and went to Kickstarter for help. I decided, this was the time to get one, and at the same time, help fund it. Sounds so much cooler to say I funded a project that went to production.
It took about two months, as they had over two thousand orders to sort through, but I got my kit today.
Keyport Kit from Kickstarter Project
Included the kit I ordered is the Keyport case or housing unit, four blades or key blanks, 8GB USB flash drive, and mini LED light. Yes, there was an option for a bottle opener.
Colours available
The Slide 2.0 is available in white, black, and red. Red is too...red. Black just seems like you are trying too hard. So, I went with white...also, because it looks like a Stormtrooper.
Keyport side plats
One of the options was to have coloured side plates. You have your default colours, matching the main body or you can add a little flare with blue, green, black, or fuschia. While these were tempting, I want black ones, they were also an extra $3.99 a pair. You know how cheap I am. They were also just coloured plates with a Keyport logo. If I was going to pay $4 for it, I would want something more 'customized' than just a colour difference. The solution?
Custom side plates with DMC logo
I made my own side plates. Of course, I would have to customize with something. Oh, I know...a DMC logo, duh. As soon as I got my kit, I took measurements and made them. A few hours later, they were printed out on the machine...for FREE! I painted these with SEM Trim Black.
Painted custom side plates
There is one more small piece I need to change. The nodes come in black, green, yellow, red, white, and blue. I am not a big fan of the green one, so using some nail polish I bought, I will paint it silver. Oh yeah, I bought some nail polish. Why? I needed to touch up some paint chips on my wheels. Yeah, I colour matched the nail polish to DeLorean wheels.
Close up of nodes and custom side plate
Awesome, looks something a Stormtrooper would carry. Although, I cannot think of a reason for a Stromtrooper to use keys. Seems like everything in Imperial ships and space stations are accessed by push button and proximity. Anyway, I will do a quick review once I get the keys cut and I have had time to test it out.
So far, I have funded four projects on Kickstarter. This is the first one to arrive, and only took about two months. My package/kit was $79, pretty good price as their first version with the same blade options would have been about $100. I will write up new posts as I receive items from the other projects. I think this one was a success for everyone involved.
If you want to get yourself one, head over to
mykeyport.com
. Looks like you can only order V1.0 for now, I am sure V2.0 will be available soon.
Keyport in the ignition
Update: I went to my local locksmith and had my keys cut. I installed the blanks into the holder and tried it out. They keys work and the unit is strong enough to take the torque of turning a tough lock on a old door. The only thing I had to get used to was the holder, as it is a little bulkier than a normal key body. Actually, it give you a better grip and easier to torque the lock.
The buttons lock in open and closed positions. A light press on the spring loaded button releases the lock and the blanks slide out much smoother than I thought it would. The compact size is a big plus, it takes up less real estate in your pocket. Also, the keys do not dangle and jingle.
I only have a couple of minor complaints on the Slide 2.0, they are really minor. I think the body could be about a quarter inch shorter. Maybe I have short keys. When they are all the way in, I feel there is too much room to from the tip of the longest key to the end of the unit. In contrast, I think the when the keys are in the closed position should be locked a quarter inch forward. I feel the buttons are a bit too far back in the closed position to comfortably access. Again, these are really minor issues.
When I really began to study the design of the entire system, I noticed that there was a lot of thought into it. The Slide 2.0 is a great design.