I am way too lazy to write anything up for this right now. So, click
here
and look at some photos of Darth Mater. Maybe later I will write something up.
UPDATE: At Comic-Con, some people were asking me what I actually did on Darth Mater. I did 90% of the sculpting of Darth Mater. Joe Sid (who is listed on the plaque) sculpted the cape.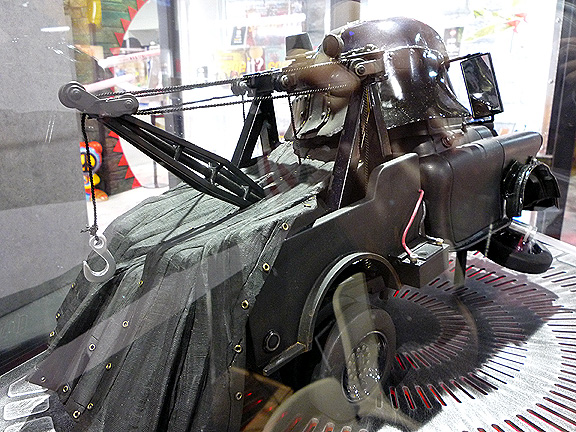 The Mater you see underneath was first sculpted by me in 2004 and was made for the Cars toy line that you may see in the stores today. This was done from scratch in the computer using a program called
Freeform
and
using reference
photos provided by
Pixar
. I was also part of the license pitch that brought the Cars license to Mattel.
Anyway, in 2-3 weeks time, I sculpted Mater and it was approved by
Pixar
...fast forward to 2005, the movie and toys come out. Both are successful, and made/is still making tons of money for both companies.
Because of the success of the Cars movie the Mattel Design Team created a display of the
characters
from the movie to be auctioned off at
Dream Halloween benefiting the Children Affected By AIDS Foundation
. That is the first picture you see on the link above...heck, let me just steal it...hold on....here: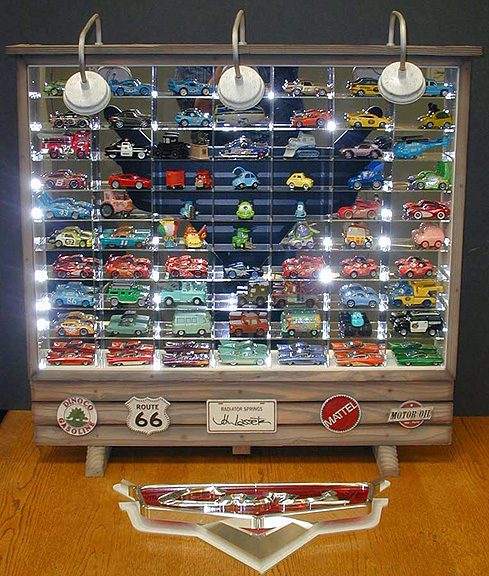 ...there. Now, I did nothing on this one. Well, actually, like I said I did sculpt Mater, as well as, Lightning McQueen, and The King. So, those are in there a few times in different variations.
For this year's Dream Halloween, they wanted something big. Ben at
Pixar
came up with the idea of "Darth Mater". Gentle Giant did a few sketches and
Pixar
decided on the concept and I was tasked to sculpt it. Since I already had the Mater file, all I had to do was the Darth parts.
The Darth parts took about two weeks to sculpt. I worked with Ben and Emery from Pixar. Basically, I did everything you see except for that cape. Painting was done by Brandon, he is on the plaque, too. In fact, here is a picture that I jacked: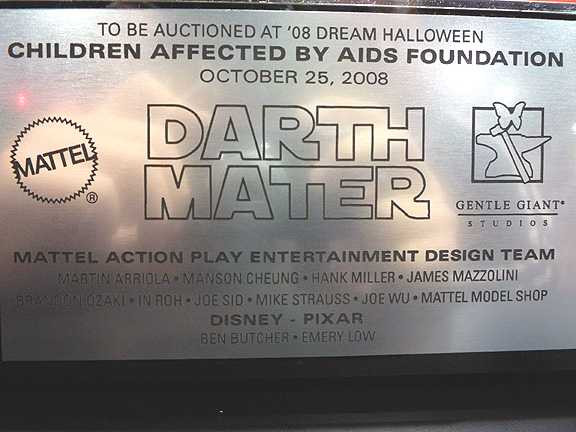 The other pictures on that site are not that great due to poor lighting at Comic-Con. Brandon did a wonderful job. There are traces of 'rust' and 'different metals'. He really made my sculpt look ten times better.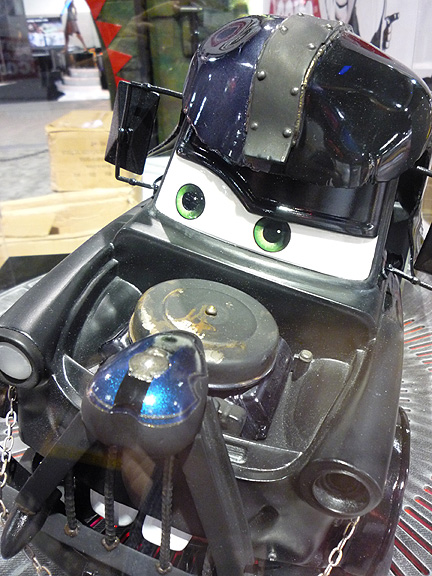 The rest was done by a bunch of people at Mattel. The pieces were printed by our Rapid Prototype Group, Perry and Bobby. Clean up of the 28 pieces were done by our shop guys. Sorry, I do not know who in the shop worked on it, but they are listed as Mattel Model Shop on the plaque. The plaques and base were made by Jim and Rex in the shop. Assembly of parts by Hank,Mike, and James (listed on plaque), this includes fitting pieces together, installing lights, installing motor, and making it move. Our Electronics Group and Sound Lab (again, I apologize, I do not know the individuals who worked on this) did the electronics, including lights, sound, movement programming.
Yeah, that is about it. In all, I estimate about thirty people had their hands on this. When Dream Halloween comes around, I will update with photos and winning bid.