I finally got some LED 'bulbs' for the car. This is another easy install/modification that even I can do. The hardest part was getting the bulbs themselves. In the past, I have ordered through
superbrightleds.com
for the lights in the interior. While these guys have everything you could ever want in LED replacement, they are on the pricey side. I decided to get some 'direct from factory' LED bulbs from China, via eBay. In the end, I saved about 75% on my order.
The set of LED bulbs for the DeLorean
The bulbs I needed are for the tail lights and the front indicators. The tail lights are 1156 in white (x2), amber (x2), and red (x6). The front indicator are 1157 in amber (x2).
LED bulbs installed on the PJ Grady circuit board
Installation is very easy. For the tail lights, all you need to do is remove the lens from the car, disconnect the cables, and pop out the circuit board. Luckily, one of the previous owners had updated my circuit board with a PJ Grady board.
Top: LED Bulbs Bottom: Incandescent bulbs
Then, simply swap out each bulb with an LED, making sure that the correct coloured bulb is in the right socket.
Placing board with LED bulbs back in to lens assembly
Once the board is back on the lens assembly, the cables get connected, and entire assembly gets mounted back on the car. Super simple. I should get a different bulb for the center red lights as these are on when your lights are on. For now, I will leave it as is. I do not do much driving at night and these are really easy to change if I ever get a burnt bulb.
The front installation is even easier. These take 1157 in amber (x2). Just one bulb to deal with, no chance of putting in the wrong colour. Remove the front indicator lens, swap out the bulb, remount the lens. Simple as that. So simple, I did not even take a break to take pictures.
The LED's are brighter and draw less juice from the battery. Anything the puts less stress on a DeLorean's electrical system is a good modification. Now, my car is pretty much running all LED's. Only the head lights and the battery light in the dash remain incandescent bulbs.
Next up, planning on making the side markers blink with the front and rear indicators. Stay tuned for more upgrades happening in the next few months.
Update: I got a question regarding which seller I got my 'direct from factory' LED's from. It has been a few months, and I do not have records of that. The good news is, there are only a handful of sellers, all with at least 99% feedback. Looks like 'vision-technology' has a lot of LED bulbs for sale. Not sure if this is who I got mine from, I think they are all the same
Just do a search for "1156 LED" and "1157 LED", many options will pop up. Make sure you get the right number of bulbs and in the right colours. I went with SMD (surface mount) bulbs, I think mine had 30 surface mounted LED's per bulb. They are bright enough for day time use, and noticeably brighter than incandescent bulbs.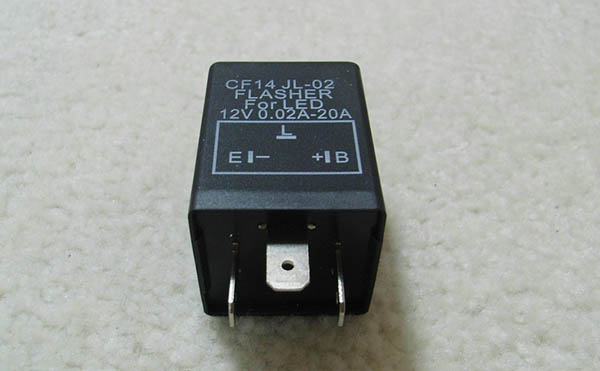 LED Flasher Relay
Note: You will need an LED specific
flasher relay,
if you upgrade your front and rear amber bulbs. Make sure the configuration is like the picture above. An easy way to remember, from left to right, ELB...Emmet Lathrop Brown. These can easily be found at your local auto parts store or online.
More (and better) information on LED's can be found on Ozzie's site,
HERE
. Lots of DeLorean information there, good idea to
bookmark his site
for future reference.
As far as I know, the PJ Grady boards are no longer made. There are some vendors out there that may have some in stock. I would contacting any
DMC
branch or
Josh at DPI
.
I hope that helps and answers your question. Good luck.